SEO Strategy
As the digital landscape continues to evolve, it's essential for brands to stay on top of their SEO strategy. Search engine optimization (SEO) is an integral part of any digital marketing strategy because it helps you reach your target customers, increase website traffic, and boost your search ranking. In this blog post, we will explore the basics of SEO and how you can develop an effective SEO strategy for your business. We'll look at the importance of keyword research, content creation, link building, and more so that you can create a comprehensive plan for optimizing your website and improving its visibility in search engines.
What does SEO means?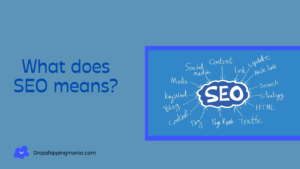 SEO is an acronym for "search engine optimization" or "search engine optimizer." Deciding to hire an SEO is a big decision that can potentially improve your site and save time. But you can also risk damage to your site and reputation. Make sure to research the potential advantages as well as the damage that an irresponsible SEO can do to your site. Many SEOs and other agencies and consultants provide useful services for website owners, including:
Review of your site content or structure
Technical advice on website development: for example, hosting, redirects, error pages, use of JavaScript
Content development
Management of online business development campaigns
Keyword research
SEO training
Expertise in specific markets and geographies.
What is SEO checklist?
A comprehensive SEO checklist can help you take your website and online presence to the next level. By following these simple tips, you can increase your visibility in search engines, attract more visitors to your site, and improve your overall web presence.
Here's a quick SEO checklist to get you started:
1. Research keywords
Before you can optimize your website for specific keywords. You need to determine which keywords are most relevant to your business. Use keyword research tools like Google AdWords Keyword Planner and Moz Keyword Explorer to find high-traffic, relevant keywords that you can target on your website.
2. Optimize your title tags
Your title tags are one of the most important on-page SEO elements. Make sure each of your title tags is unique and includes the target keyword for that page. In addition, keep your titles under 60 characters so they don't get cut off in search engine results pages (SERPs).
3. Optimize your meta descriptions
Meta descriptions are short snippets of text that appear below your page title in SERPs. While meta descriptions don't directly impact your ranking. Theydo play a role in click-through rate (CTR) – which is a factor that can influence your ranking. Write compelling meta descriptions for each page on your website, and include your target keyword(s) to increase the chances that people will click through to your site.
What are keywords for SEO?
There are a variety of different types of keywords that can be used for SEO purposes. The most common and important keywords are those that relate to the topic or main keyword of your website or blog. For example, if you are selling cars, then keywords such as "cars," "car dealerships," and "car buying" would be important to include on your site. Other important keywords include those related to your business location, product or service offerings, and company name.
Including these types of keywords on your website helps search engines understand what your site is about and match it with relevant searches. Including too many keywords, however, can result in keyword stuffing, which can actually hurt your site's ranking. So it's important to find a balance when including keywords on your site.
What are the 7 types of SEO?
The 7 types of SEO are:
1. On-Page SEO: This refers to all the things you can do on your website to improve your search engine ranking, such as title tags, meta tags, keyword density, and more.
2. Off-Page SEO: This encompasses everything that takes place off of your website that can affect your ranking, such as link building, social media activity, and more.
3. Technical SEO. : This covers all the behind-the-scenes aspects of SEO that can impact your ranking, such as site speed, indexing issues, and more.
4. Local SEO: This is designed to help you rank higher in local search results, such as by optimizing your business listing for Google Maps and local directories.
5. Mobile SEO: This involves optimizing your website for mobile devices so that people who are searching on their phones or tablets can find you easily.
6. Video SEO: This helps you optimize your videos so they show up in Google search results and get more views on YouTube and other video sharing sites.
7. Ecommerce SEO: If you have an online store, this type of optimization can help you increase visibility for product pages and get more traffic (and sales) from search engines.
How do you develop a SEO strategy?
When it comes to developing a SEO strategy, there are a few key things you need to keep in mind. First, you need to identify your target audience and what they are looking for. Once you know this, you can begin to optimize your website and content for the keywords that they are using. In addition, you need to make sure that your website is easy to navigate and contains high-quality content that is relevant to your business. Finally, you need to track your progress and ensure that your SEO strategy is working by monitoring your website's traffic and rankings in the search engines.
What is the most common strategy for SEO?
The most common strategy for SEO is to create content that is keyword rich and informative. By creating content that is optimized for the search engines. You can increase your chances of ranking higher in the SERPS. In addition to creating great content, you should also focus on building backlinks to your site. Backlinks are one of the most important factors in determining your site's ranking. By getting other websites to link to yours. You can increase your visibility and authority in the eyes of the search engines.
What is the golden rule of SEO?
The golden rule of SEO is to create content that is relevant and useful to your audience. This means creating content that is keyword-rich, well-written, and informative. It also means creating content that is engaging and shareable. By following this golden rule, you can ensure that your content will found by the right people and that it will help you achieve your SEO goals.
What should be avoided in SEO?
When it comes to SEO, there are a few things that should be avoided in order to ensure your website is optimized for search engines. These include:
– stuffing keywords into your content in an attempt to keyword stuff;
– using black hat techniques such as link farms and doorway pages;
– buying links in an attempt to boost your PageRank;
– participating in link schemes; and,
– engaging in any activity that could get your site penalized by Google.
Which technique should be avoided in SEO?
There is no one-size-fits-all answer to this question, as the best SEO strategy for a given website will vary depending on the nature of the site and its target audience. However, there are certain techniques that should generally avoided in SEO. As they can result in penalties from search engines or simply be ineffective. These include:
-Keyword stuffing: cramming too many keywords into your content in an attempt to manipulate search engine rankings. This not only looks spammy and could get you penalized, but also makes your content difficult to read for users.
-Cloaking: showing different content to search engines than what users actually see when they visit your site. This is another tactic that can result in penalties from search engines.
-Link buying/selling: paying for links in an attempt to improve your link popularity. This not only goes against Google's guidelines. But can also lead to low-quality links that could hurt your rankings rather than help them.
What are the 12 things to know about SEO?
1. SEO is short for "Search engine optimization"
2. It is a long-term marketing strategy employed in order to improve a websites visibility and organic search results in google and other global search engines.
3. The goal of SEO is to have your website appear as the top result for relevant keywords when people search those terms
4. In order to achieve this, website owners must design their pages with both users and search engine crawlers in mind
5. optimizing title tags, meta descriptions, images, and other on-page elements can make a big difference
6. off-page SEO tactics like link building and social media engagement can also help
7. newer ranking factors like mobile-friendliness and page speed are also becoming increasingly important
8. an effective SEO strategy requires regular monitoring and adjustment as Google's algorithm evolves over time
9. it can be difficult to keep up with all the changes, but there are plenty of resources out there to help
10. you don't need to be an expert in SEO to see results – there are plenty of agencies and consultants who can help you out
11. That said, it's still worth taking the time to learn the basics so that you can more informed about what's going on
12. at the end of the day, the best way to improve your website's SEO is to create
What hurts your SEO?
One of the most common mistakes that can hurt your SEO is failing to do keyword research. Not all keywords are created equal, and it's important to choose ones that are relevant to your content and have a high search volume. In addition, stuffing your content with too many keywords is also a no-no – not only will it not help your SEO. But it will also make your content difficult to read.
Another common mistake is neglecting to optimize your website for mobile. With more and more people using their phones and tablets to browse the web. It's crucial that your site is responsive and easy to use on smaller screens. If it's not, you could be missing out on a lot of traffic – and potential customers.
Finally, another mistake that can hurt your SEO is failing to monitor your backlink profile. This refers to the links from other websites pointing back to yours. It's important to keep an eye on these as they can help improve your ranking in search engine results pages. Butif they're coming from low-quality or spammy sites, they could actually hurt your ranking.