Amazon FBA vs Dropshipping
Deciding which business model Amazon FBA and dropshipping  to use for your ecommerce business can be a daunting task. There are so many options and paths you can take, and it's hard to know which one is right for you. In this article, we're going to compare two of the most popular ecommerce business models: Amazon FBA and dropshipping. We'll explore the pros and cons of each so that you can make an informed decision about which path to take for your own business.
Is Amazon dropshipping and Amazon FBA the same?
Many people are confused about the difference between Amazon FBA and dropshipping. Both are business models that allow you to sell products online, but they are very different in how they operate.
Amazon FBA is a fulfillment service offer by Amazon. You send your products to Amazon, and they store it in their warehouses. When someone orders your product from Amazon, they will pick it up from the warehouse and ship it to the customer. You will need to pay for storage and shipping fees, but you don't have to worry about packing or shipping the products yourself.
Dropshipping is a business model where you sell products that are store and ship by a third-party supplier. When someone orders your product, you will notify the supplier, who will then ship the product directly to the customer on your behalf. You will need to pay for the product when you make the sale, but you don't have to pay for storage or shipping fees.
So, what's the difference between Amazon FBA and dropshipping? The biggest difference is that with Amazon FBA, you are selling your products through Amazon's marketplace. This gives you access to Amazon's massive customer base, but it also comes with some strict rules and regulations that you need to follow. With dropshipping, you can sell your products on any platform or website that you want. This gives you more flexibility in terms of where you sell your products
How much does it cost to start Amazon FBA?
When you are first starting out with Amazon FBA, the costs can seem a bit daunting. However, there are some ways to cut down on costs and still be successful with your business.
First, you will need to find a good supplier for your products. There are many different options out there, so take some time to research and find one that fits your needs. You will also need to pay for shipping to get your products to Amazon's fulfillment centers.
Once your products are at the fulfillment center, you will need to pay for storage and handling fees. These fees vary depending on the size and weight of your products, but they can add up quickly if you have a lot of inventory.
You will also need to pay for any advertising or promotion that you do on Amazon. This can done through Amazon's pay-per-click program or through other means such as product reviews or social media marketing.
Finally, you will need to pay taxes on your sales. This includes both state and federal taxes, so be sure to factor this into your overall costs.
While the upfront costs of starting an Amazon FBA business can sizable, there are ways to offset these costs and still successful in the long run. By carefully selecting a supplier, shipping smartly, and investing in some promotions, you can keep your costs down and make a profit with your business.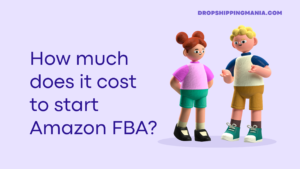 How much does an average dropshipper make on Amazon?
Dropshipping is a business model in which ecommerce entrepreneurs sell products without having to carry any inventory. When a dropshipper receives an order from a customer. They simply contact the supplier, who will then ship the products directly to the customer's doorsteps. Dropshippers can run their businesses entirely online. Making it a very attractive option for those looking to start their own ecommerce business.
So, how much money can you expect to make as a dropshipper on Amazon? This is a difficult question to answer because there are so many variables involve. The amount of money you can make will depend on factors such as the niche you're in, the price of your products, the number of sales you make, and your overhead costs.
That being said, we've seen dropshippers make anywhere from a few hundred dollars per month to over $100,000 per month. It really depends on how much time and effort you're willing to put into your business. If you're serious about making money through dropshipping on Amazon, then you can definitely achieve success.
Why do most dropshippers fail?
Most dropshippers fail because they don't have a solid plan or they're not organized. Without a plan, it's easy to get overwhelmed and give up. And without being organized, it's impossible to keep track of your inventory, customers, and expenses.
To be successful at dropshipping, you need to treat it like a business. That means having a clear idea of what you want to sell, who your target market is, and what kinds of products they're looking for. It also means staying on top of your inventory and keeping track of your finances so you can make informed decisions about where to invest your time and money.
How much money do you need to start Amazon dropshipping?
There's no one-size-fits-all answer to this question. As the amount of money you'll need to start dropshipping on Amazon will vary depending on a number of factors. Including the type and cost of the products you plan to sell. The length of your dropshipping contract, and whether you're using an Amazon fulfillment center or a third-party fulfillment provider.
That said, there are a few general rules of thumb you can follow when it comes to budgeting for your Amazon dropshipping business. For starters, you'll need enough money to cover the cost of inventory for your first month of business . (which will be higher if you're selling products with a longer shelf life). You should also factor in the cost of shipping and any other associated fees .(like storage fees if you're using an Amazon fulfillment center).
Finally, it's always a good idea to have some extra funds set aside for unexpected expenses or slow periods. It's better to be safe than sorry when it comes to starting your own business!
If you need more information about Amazon then visit this link