Ecwid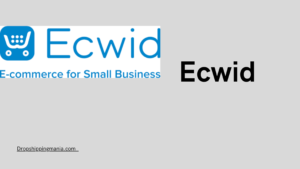 Shopping online has become an increasingly popular way to purchase goods. With the introduction of platforms like Ecwid, it has never been easier for businesses to set up a digital storefront and start selling products to customers around the world. But what is Ecwid? In this blog post, we'll explore the platform in detail and discuss how it can help you create an online store that offers customers a great shopping experience. We'll also take a look at some of the key features of Ecwid and explain why it is one of the most popular e-commerce solutions available today.
What is the purpose of Ecwid?
The purpose of Ecwid is to help businesses sell online. It provides a customizable online store that can be added to any website or blog. Ecwid makes it easy for businesses to start selling online by providing everything they need in one place. Ecwid also offers a wide range of features and integrations to help businesses grow their online sales.
How do you make money with Ecwid?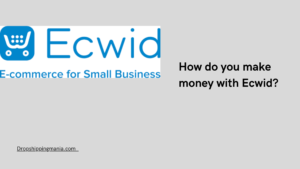 There are a few different ways that you can make money with Ecwid. The first way is by selling products through your online store. You can add products to your store and set your own prices. When someone makes a purchase, you will receive the money in your account.
Another way to make money with Ecwid is by becoming an affiliate. You can promote other businesses' products on your website or blog and earn commission on every sale that you generate. To become an affiliate, sign up for the Ecwid Affiliate Program and start promoting products today.
Finally, you can also make money by becoming a partner. Ecwid partners with select businesses to help them grow their online presence. As a partner, you will receive a percentage of the revenue generated by the business you are partnering with. If you are interested in becoming a partner, contact Ecwid today.
Is Ecwid safe?
Yes, Ecwid is safe. Ecwid is a secure platform that uses SSL encryption to protect your data. You can also set up two-factor authentication to add an extra layer of security to your account. Ecwid has been certified by PCI DSS, which means that it meets the highest standards for security.
Can I sell internationally on Ecwid?
Yes, you can sell internationally on Ecwid! In fact, Ecwid makes it easy to expand your business into new markets. With Ecwid, you can create a single online store that is accessible from anywhere in the world. Plus, Ecwid offers built-in features that make it easy to reach new customers in different countries, such as automatic currency conversion and language translation.
Is Ecwid as good as Shopify?
It is a great alternative to Shopify for small businesses that are looking for an easy to use, customizable ecommerce platform. Ecwid offers all the features that Shopify does, including a built-in shopping cart, product management, order management, and payments. Ecwid also has no transaction fees, unlike Shopify, which charges 2% per transaction.
Is it free to sell on Ecwid?
Yes, it is free to sell on Ecwid. You can sign up for a free account and then upgrade to a paid account if you need more features. With a free account, you can sell up to 10 products, accept payments through PayPal, and use Ecwid's built-in SEO tools to help your store rank higher in search engines. If you need more features, such as unlimited products, support for multiple languages, or automatic shipping calculations, you can upgrade to a paid account starting at $15 per month.
Do I need a business license to sell on Ecwid?
If you are planning to sell products or services online, you will need to obtain a business license from your local government. However, if you only want to sell through it , you will not need a business license.
Is Ecwid good for SEO?
Yes, Ecwid is good for SEO. Ecwid automatically generates product sitemaps and submits them to Google Merchant Center, making it easy for Google to find and index your products. In addition, it allows you to customize the title, meta tags, and URL of each product page, giving you complete control over how your products are presented in search results.
Which country is Ecwid from?
Ecwid is a company that provides e-commerce solutions for businesses of all sizes. The company was founded in 2006 in Russia and is now headquartered in the United States. Ecwid has a team of over 250 employees who work in offices across the globe, including in the United States, Russia, Ukraine, Spain, Australia, and Brazil.
Can I sell anything on Ecwid?
Yes! You can sell physical and digital products, as well as services on Ecwid. There are no limits to what you can sell.
How do I withdraw money from Ecwid?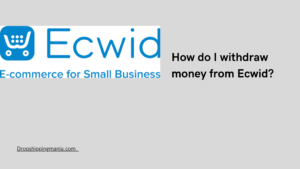 To withdraw money from your Ecwid account, simply click on the "Withdraw" button located on the main menu. From there, you will prompted to select a payment method and enter the amount you would like to withdraw. Once you have entered all the necessary information, click on the "Withdraw" button again and your withdrawal will processed within 3-5 business days.
How many products can you sell on Ecwid?
If you're using it to sell products on your website, you might be wondering how many products you can sell. The answer is that there is no limit to the number of products you can sell on it . You can add as many products as you want to yourEcwid store, and there are no restrictions on the number of products you can sell.
This is perfect for businesses who have a large inventory or who want to offer a wide variety of products to their customers. With Ecwid, you can easily add and manage all of your products in one place, making it simple to keep track of your inventory and ensure that your customers always have access to the latest products.
How long does it take to get paid from Ecwid?
If you're selling through Ecwid, you may wondering how long it will take to get paid. The answer depends on which payment method you're using.
If you're using a credit card processor like PayPal or Stripe, funds will deposit into your account immediately after a sale is made. If you're using a bank transfer, it may take a few days for the funds to arrive.
Ecwid also offers the option of receiving payments via check. In this case, payments will mailed to your address within 14 business days of the sale.
So, how long does it take to get paid from Ecwid? It depends on your payment method, but in most cases, you'll receive your payments quickly and without any delays.
Does Ecwid give you a website?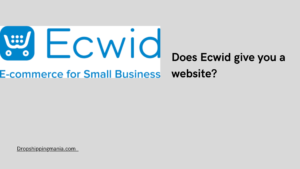 If you don't have a website yet, don't worry! Ecwid can help you get start. With it, you can create a beautiful, responsive online store in minutes, without having to learn coding or hire a web designer. Plus, it is free to try and easy to set up. So why not give it a go?
If you already have a website, adding an it store is quick and easy. Just create an account, add your products, and copy-paste a few lines of code into your website. That's it! YourEcwid store will be up and running in no time.
Can Ecwid sell digital products?
Yes, Ecwid can sell digital products! You can add digital products to your Ecwid store in a few clicks and start selling them immediately. With it, you can sell both physical and digital products in one place.
Can I use PayPal on Ecwid?
Yes, you can use PayPal on it . In fact, PayPal is one of our supported payment methods. To accept payments via PayPal on your Ecwid store, you just need to connect your PayPal account to it . Once you've done that, your customers will be able to pay for their orders using their PayPal accounts.
Does Ecwid calculate shipping?
Yes, Ecwid can automatically calculate shipping rates for your customers. All you need to do is set up your shipping settings in your it control panel. You can specify the countries you ship to, the shipping methods you offer (such as flat rate, USPS, FedEx, or UPS), and the rates for each shipping method. Once you have your shipping settings configured, it will automatically calculate shipping rates for your customers during checkout.
Is Ecwid good for small business?
There is no one-size-fits-all answer to this question, as the best eCommerce platform for small businesses depends on the specific needs of each business. However, we can say that it is a good option for small businesses that are looking for an easy-to-use, affordable, and customizable eCommerce solution.
Ecwid offers plans starting at just $15/month, which makes it very affordable for small businesses. It is also very easy to use, even if you don't have any technical expertise. And if you need more customization than the out-of-the-box options provide, it has a wide range of add-ons and integrations that can used to create a unique online store.
If you need informative article then visit this link