What podcast means?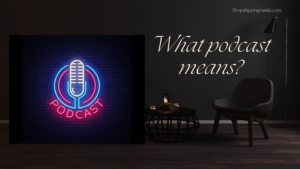 A podcast is a digital audio file made available on the Internet for downloading to a computer or portable media player, typically available as a series, new episodes of which can received by subscribers automatically.
How does podcast work?
There are a few things that you need in order to start podcasting: first, you need a topic. This can be literally anything that you want to talk about- there are no rules. You also need a microphone, and some basic audio editing software. Once you have those things, you're ready to start recording your episodes!
Episodes of a podcast can  anywhere from 5 minutes to 2 hours long, and can  released as often or infrequently as you like. Once you have recorded and edited your episode, you'll need to upload it to a hosting platform (such as Libsyn or Podbean). From there, your episode will  distributed to all the major podcast platforms (such as iTunes, Google Play Music, and Stitcher).
Podcasting is a great way to connect with an audience on a regular basis- if you release new episodes regularly, your listeners will keep coming back for more. And since podcasts are usually free to listen to, they're accessible to anyone with an internet connection.
Can you listen to podcasts for free?
Yes, you can listen to podcasts for free. There are many ways to find and listen to podcasts, including through popular podcast apps like iTunes, Stitcher, and Overcast. You can also find podcasts on the websites of many popular radio stations.
Seven most popular types of podcast formats
1. Interviews
2. Narrative
3. Fiction
4. News and current affairs
5. Education and training
6. Business and marketing
7. Technology
How does podcast make money?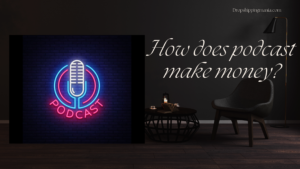 There are a few different ways that podcasts make money. The first is through advertising. Podcasters will sell ad space on their show to businesses who want to reach their audience. The second way is through sponsorships. Podcasters will partner with businesses and promote their products or services on their show. The third way is through donations. Podcasters will ask listeners to donate money to help support the show. And finally, some podcasters will sell products or services related to their show.
How do I start doing a podcast?
If you're interested in starting a podcast, there are a few things you need to do in order to get start. First, you need to decide on a topic or niche for your podcast. This will help you determine what kind of content you'll be creating, and who your target audience is. Once you have an idea of what you want to talk about, the next step is to start planning and recording your episodes. You can either do this yourself or hire someone to help you with the technical aspects. Finally, once your episodes are recorded, you'll need to upload them to a hosting platform and promote your podcast so people can find and listen to it.
What is the number 1 podcasts?
There are many popular podcasts out there, but the number one podcast according to iTunes is This American Life. This American Life is a weekly public radio show that tells stories about real life. The show is hosted by Ira Glass and each week, Glass and his team of reporters bring listeners stories about different aspects of life in America.
This American Life has been on the air since 1995 and has won numerous awards, including the Peabody Award and the duPont-Columbia Award. If you're looking for a captivating podcast that will make you laugh, cry, and think, then This American Life is the perfect choice.
Do podcasts make money per listen?
There are a number of ways that podcasts make money per listen. The most common way is through advertising. Podcasters will sell advertising spots to companies who want to reach their audience. Ads can  played at the beginning, middle, or end of a podcast episode, and they can be either live reads by the hosts or pre-recorded messages.
Another way that podcasts make money is through sponsorships. A podcast sponsor is a company that pays to have their product or service mentioned on the show. This can  done either through verbal mentions during the episode or through banner ads on the podcast website.
Finally, some podcasts make money through listener donations. This is usually done through a platform like Patreon, where listeners can sign up to give monthly donations to their favorite shows.
What are the 5 steps to start a podcast?
If you're thinking about starting a podcast, there are a few things you need to do first. Here are the five steps you need to take:
1. Choose your topic. What are you passionate about? What do you want to talk about? This is the first and most important step – if you're not passionate about your topic, it'll be hard to keep your podcast going.
2. Find your co-hosts. Unless you're planning on doing a solo podcast, you'll need at least one other person to help you out. This person will be your co-host, and they can help with everything from brainstorming ideas to recording and editing the final product.
3. Choose a name for your podcast. This is another important step – you want to choose a name that's catchy and reflective of your topic. Something that will make people want to tune in every week.
4. Set up your recording equipment. If you're planning on recording at home, you'll need a good microphone and some basic recording software. There are tons of great options out there, so do some research and find what works best for you.
5. Start recording! Once you have all of your equipment set up, it's time to start recording episodes! Brainstorm some topics, hit record, and let the magic happen.
Who has the most listened to podcast?
There are a few ways to measure who has the most listened to podcast. One way is to simply look at the number of downloads or streams for a particular show. This doesn't necessarily reflect true engagement, however, as someone could download or stream a podcast once and never listen to it again.
A more accurate measure would be to look at listener behavior data, such as how many people finish an episode, how long they listen for, or whether they subscribe to a show. This data can give you a good idea of which podcasts are truly engaging their audience and keeping them coming back for more.
So, based on these measures, who has the most listened to podcast? It's hard to say definitively, but some of the most popular shows out there, such as This American Life, Serial, and NPR's Fresh Air, are definitely up there
Is podcast free with Prime?
Podcasts are a type of digital media that are typically downloaded and played on a portable media player, computer, or smartphone. Many podcasts are free, but some require a paid subscription. Amazon Prime is a paid subscription service that offers free two-day shipping, streaming video and music, and other benefits. While Prime does not currently offer any free podcasts, there are many popular podcasts that can  purchased through the Amazon Prime store.
If you need some information about Instagram then visit this link