Sell Side E-commerce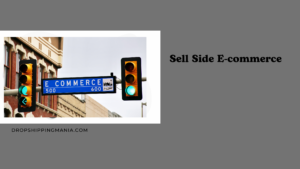 Online retail has become such an embedded part of our daily lives, it's no surprise that Sell Side eCommerce is becoming increasingly popular. Ecommerce platforms provide businesses with the opportunity to reach customers worldwide, which in turn provides them with significant economic benefits. To truly understand the potential of Sell Side eCommerce and the incredible results it can bring for brands, we need to take a closer look at how it works and what strategies should employed for maximum success. This article will provide an overview of Sell Side eCommerce, from its basics and how it works to how you can use it for your business.
What are the types of sell side e-commerce?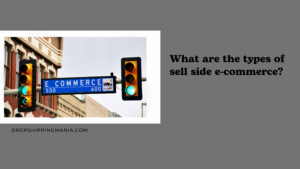 There are four types of e-commerce platforms that enable selling online:
1. Online marketplaces: These platforms host multiple sellers and offer buyers a variety of products from different categories. Amazon and eBay are examples of online marketplaces.
2. Webstores or e-tailing: These are online stores set up by single retailers to sell their products directly to consumers. Shopify and BigCommerce are popular webstore platforms.
3. Comparision shopping engines (CSEs): CSEs allow shoppers to compare prices of similar products offered by different retailers before making a purchase decision. Google Shopping and NextTag are examples of CSEs.
4. Product listing ads (PLAs): PLAs feature visual ads for specific products that include the product image, price, and a link to the retailer's website. Google Shopping Ads is the largest PLA platform.
What is a sell side marketplace?
A sell side marketplace is an online platform that allows businesses to list and sell their products or services. The platform typically provides a marketplace for buyers and sellers to connect and transact business.
Sell side marketplaces are similar to other online marketplaces. Such as Amazon or eBay, but with a focus on specific types of businesses or products. For example, there are sell side marketplaces for businesses that sell office supplies, industrial equipment, or certain types of services.
Many sell side marketplaces offer different features and benefits for both buyers and sellers. For example, some platforms may offer buyer protection programs, dispute resolution services, or escrow services. Others may provide tools and resources for sellers to help them promote and manage their listings.
When choosing a sell side marketplace, it's important to consider your needs and objectives as a business. Some factors you may want to consider include the type of products or services you're selling, the size of your business, your budget, and the features and benefits offered by the platform.
Why is it called sell-side?
The term "sell-side" is used to describe the businesses and individuals who sell products and services to customers. This includes manufacturers, wholesalers, distributors, retailers, and any other type of company that sells products or services.
The term "sell-side" is used because these businesses are typically on the selling side of the equation. They are the ones selling products and services to customers, rather than buying them from other businesses. This is in contrast to "buy-side" businesses, which are typically on the buying side of the equation. They buy products and services from other businesses in order to resell them to their own customers.
How does sell-side make money?
There are a few ways that sell-side ecommerce businesses can make money. The first is through product and service sales. This is the most common way that ecommerce businesses make money, as they sell products or services online and earn a profit from each sale. Another way that sell-side ecommerce businesses can make money is through advertising. They can either sell advertising space on their website or they can include affiliate links in their product listings. When a customer clicks on an affiliate link and makes a purchase, the ecommerce business earns a commission from the sale. Finally, some ecommerce businesses make money by charging membership fees. This allows them to offer customers access to exclusive content or features that they would not be able to get anywhere else.
What is sell-side B2B?
Sell-side B2B is the business-to-business ecommerce model in which a company sells products or services to another company through an online marketplace. The marketplaces can be generalists, such as Amazon Business, or they can be industry specific, such as ThomasNet. In either case, the seller is known as the "supplier" and the buyer is known as the "customer."
The supplier creates a listing for each product or service that it offers on the marketplace. The listing includes information about the product or service, such as pricing, delivery terms, and warranty information. Customers can browse the marketplace and search for products or services that they need. When they find a listing that meets their needs, they can contact the supplier to purchase the product or service.
Sell-side B2B ecommerce is convenient for both buyers and sellers because it provides a central place where companies can find suppliers and compare prices. Marketplaces also offer buyers protection against fraud and allow them to leave feedback about their experiences with suppliers.
What are the 4 types of selling?
The four types of selling are:
1. Transactional selling: This is the most common type of selling, and involves exchanging goods or services for money.
2. Relationship selling: This involves developing a rapport with a customer and sell them products or services based on that relationship.
3. Consultative selling: This involves helping the customer find the best solution to their problem, and then selling them the product or service that will solve it.
4. Solution selling: This involves finding out what the customer's needs are and then customizing a solution that meets those needs.
What are the 7selling techniques?
There is no definitive answer to this question as different selling techniques work for different products and businesses. However, some common selling techniques that are used in ecommerce include:
1. Offering discounts or coupons: This is a common technique used to entice customers to make a purchase.
2. Creating urgency: Urgency can be created by offering limited time deals or promotions.
3. Free shipping: Offering free shipping on orders is another way to encourage people to shop with your business.
4. Highlighting customer reviews: Showcasing customer reviews and testimonials can help build trust and confidence in potential buyers.
5. Displaying security badges: If your site is secure and uses SSL encryption, make sure to display security badges prominently to let visitors know their information is safe with you.
6. using social proof: Social proof is when you show potential customers that others have purchased from you and been happy with the experience. This could be in the form of customer reviews, social media testimonials, or celebrity endorsements.
7. Creating a sense of exclusivity: Making people feel like they are part of an exclusive club can entice them to buy from you. This could be done by offering VIP memberships, early access to sales, or exclusive discounts.
How do I become a good sell-side analyst?
There is no one-size-fits-all answer to this question, as the skills and experience required to be a successful sell-side analyst vary depending on the specific industry and sector in which you work. However, there are some key traits and skills that all successful sell-side analysts share.
Firstly, sell-side analysts must be excellent communicators, both in writing and verbally. They need to be able to clearly articulate their ideas and analysis to clients, colleagues, and superiors. Secondly, they must have strong analytical skills and be able to quickly grasp complex financial information.
Thirdly, they must be able to work independently and be self-motivated. As a sell-side analyst you will often be working on your own or in small teams, so it is important that you are able to stay focused and get the job done without needing constant supervision. Finally, it is also important to have good people skills and be able to build relationships with clients, colleagues, and superior
What are types of selling?
There are two types of selling: direct and indirect.
Direct selling is when a company sells a product or service to customers through its own sales force. This type of selling requires a lot of investment in terms of time and money, as the company needs to train its salespeople and support them with marketing materials.
Indirect selling is when a company sells its products or services through intermediaries such as retailers or wholesalers. This type of selling is less expensive than direct selling, but it can less effective because the company has less control over how its products are present to customers.
What is the best selling method?
There is no one-size-fits-all answer to this question, as the best selling method will vary depending on the products or services being sold, the target market, and the resources available. However, some common selling methods include online auctions, direct sales, and affiliate marketing.
When choosing a selling method, it is important to consider the needs of both the seller and the buyer. For example, online auctions may be suitable for sellers who want to reach a large audience but may not be ideal for buyers who are looking for a specific item. Direct sales may be more suitable for sellers who have a limited number of products or services to sell, while affiliate marketing may be more suitable for sellers who want to promote their products or services on behalf of another company.
What are the basic selling skills?
In order to be successful in ecommerce, it is important to have strong selling skills. Here are some basic selling skills that you should master:
• Knowing your product or service inside and out – This is critical in order to be able to answer any questions a potential customer may have, and to understand the features and benefits of what you're selling.
• Being able to articulate those features and benefits in a way that resonates with the customer – It's not enough just to know what you're selling, you need to be able to explain why it's valuable in a way that speaks to the customer's needs and interests.
• Having a strong understanding of your target market – Knowing who you are selling to is essential in order to tailor your messaging and approach.
• Being able to build rapport and relationships with customers – This is key in creating repeat business and brand loyalty.
• Closing the sale – Ultimately, this is what it all comes down to! You need to be confident and persuasive in order to get the customer to commit to buying from you.
How can I sell fast online?
There are a few key things you can do to sell fast online:
Choose the right ecommerce platform: A big part of selling online is having a platform that is easy to use and provides a good user experience. Platforms like Shopify, WooCommerce, and BigCommerce are all popular choices that offer plenty of features and integrations to make selling online easy.
Optimize your product pages: Make sure your product pages are optimize for search engine optimization (SEO) and conversion. This means including things like clear product photos, compelling product descriptions, and pricing that is attractive to customers.
Promote your products: Use social media, email marketing, and other channels to promote your products and drive traffic to your website or online store.
What is the golden rule of selling?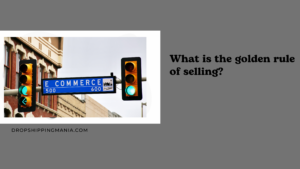 The golden rule of selling is "Sell what you believe in, and believe in what you sell." This simple rule can be difficult to follow, but it's the key to success in sales. If you don't believe in what you're selling, your customers will sense it and they won't buy from you. Likewise, if you don't believe in the products or services you're trying to sell. Your  customers will see right through you and they'll go elsewhere.
What are the 3 most important selling skills?
The ability to sell is one of the most important skills that anyone in business can have. Whether you're selling a product, service, or yourself, being able to effectively market and sell what you have to offer is essential for success.
There are many different selling techniques and strategies that can used, but not all of them are equally effective. When it comes to selling online, there are three skills that are absolutely essential:
1. The ability to create persuasive copy.
Copywriting is the art of writing persuasive text that sells. In order to sell effectively online, you need to be able to write compelling copy that convinces people to take action. This means understanding your audience and what motivates them, and then crafting your message accordingly.
2. The ability to drive traffic.
Having a great product or service is worthless if no one knows about it. That's why driving traffic to your website or online store is so important. There are a variety of ways to do this, from paid advertising to search engine optimization (SEO) to social media marketing. Figure out which channels work best for you and focus your efforts there.
3. The ability to convert visitors into customers.
Once you've managed to get people to your website or online store, you need to be able to convince them to actually make a purchase. This involves having a well-designed website or store that makes it easy for
If you don't know about mobile commerce then visit this link