Squarespace
In today's digital world, it's increasingly important to be able to create beautiful and functional websites quickly and easily. Fortunately, Squarespace has made this possible for businesses of all sizes. Whether you're a small business looking to get online or an established brand wanting to revamp your website, Squarespace can help you create a stunning website without the hassle of coding. In this blog post, we'll look at what makes Squarespace so great – from its intuitive drag-and-drop interface to its wide selection of templates and more.
Can Squarespace be used for ecommerce?
Squarespace can absolutely be used for ecommerce! In fact, Squarespace has a number of features that make it ideal for online stores. For starters, Squarespace offers built-in SSL security and PCI compliance, so you can rest assured that your customers' information is safe. Additionally, Squarespace's ecommerce platform is fully integrated with major shipping carriers, making it easy to calculate and display shipping rates on your website. And if you need help getting started, Squarespace offers 24/7 customer support.
Is Squarespace good for digital products?
Squarespace is a great platform for digital products because it is easy to use, has a variety of features and integrations, and is reliable.
Digital products are becoming increasingly popular as people seek more convenient and efficient ways to consume content. Squarespace is an ideal platform for hosting and selling digital products such as e-books, courses, and software because it is user-friendly, has a range of powerful features, and is dependable.
Some of the top reasons to use Squarespace for digital products are:
1. Easy to use: Squarespace is simple to set up and you can be selling your digital products in no time. There is no need for any coding knowledge or website design experience – all you need to do is select a template, add your content, and start selling.
2. Powerful features: Squarespace provides everything you need to create a professional online store for your digital products. You can easily sell downloadable files, accept payments, manage inventory, offer customer support, and more. Plus, there are plenty of integrations available so you can connect your Squarespace store with other tools and services you use.
3. Reliable: When you sell digital products on Squarespace, you can be confident that your store will stay up and running smoothly. Squarespace is a stable platform that can handle large amounts of traffic without any issues. Plus, if anything does go wrong, their customer support
How do I set up ecommerce on Squarespace?
If you're using Squarespace to build an ecommerce website, you can use our built-in ecommerce features to start selling products or services online. In this article, we'll give you an overview of how to set up ecommerce on your Squarespace website.
To get started, log in to your Squarespace account and go to the Commerce panel. Then, click on the Ecommerce tab and select the type of product or service you want to sell. If you're selling physical products, you'll need to add a product page for each item you want to sell. For digital products, you can add a product page or create a landing page.
Next, you'll need to set up payment options so customers can purchase your products or services. Squarespace offers several different payment gateway options, including PayPal and Stripe. You can also accept payments by credit card directly through Squarespace. Once you've chosen a payment gateway, follow the instructions on how to connect it to your Squarespace site.
Now that you have your payment gateway set up, it's time to start adding products or services to your site. For each product or service, you'll need to add a title, price, photo, and description. You can also offer discounts and coupons for your products or services as well as create shipping rules if you're selling physical items.
Once you've added all of your products and services, go back to the
Do I need a PayPal business account for Squarespace?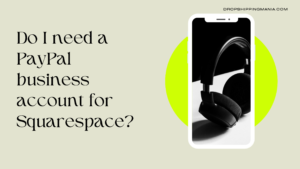 Assuming you would like a content section for the blog article "Squarespace":
If you're using this Commerce, you can connect to PayPal using either a Business or Premier account. If you have a Standard account, you can upgrade it to a Business account. To learn more about the types of PayPal accounts, visit their site.
Should I buy my domain through Squarespace or GoDaddy?
There are a few things to consider when choosing where to buy your domain. If you're using this as your website builder, we recommend buying your domain through this . This will simplify the set-up process and ensure that your site is seamlessly connected to your domain.
If you're not using this or you already have a domain from another provider, you can still use it with your this site. In this case, we recommend pointing your DNS to this for the best performance and stability. You can learn more about pointing your DNS in our Help Center.
What are the pros and cons of using Squarespace?
There are a few key advantages and disadvantages to using Squarespace that potential customers should be aware of.
On the plus side, Squarespace is an extremely user-friendly platform that makes it easy for anyone to create a beautiful website, regardless of their technical skills or experience. The templates are also very stylish and modern, which can give your website a professional edge.
Another big advantage is that Squarespace offers comprehensive customer support. So if you do run into any problems or have any questions, you can rest assured that someone will be there to help you out.
On the downside, Squarespace can be a bit more expensive than some of the other website builders on the market. Additionally, because it is such a user-friendly platform. It can sometimes feel a bit limited in terms of customization and flexibility.
Can you buy a domain on Google and use it on Squarespace?
Yes, you can buy a domain on Google and use it on Squarespace. You can also transfer an existing domain to this . To do so, you'll need to first set up your site with a temporary URL (provided by Squarespace). And then follow the instructions to point your domain to Squarespace's servers.
For more informative articles visit this link