Web Hosting
When it comes to setting up a website, web hosting is the centerpiece of your entire operation. Without a solid web hosting package, your website could suffer from slow loading times, limited storage space, and other issues that could cause your site to not perform as you would expect. But with so many web hosting options out there, how do you know which one is best for your needs? In this blog post, we'll provide an overview of what web hosting really is and discuss some tips for finding the right web host for your needs. Read on to learn more about how to get started today!
What are the 3 types of web hosting?
There are three types of web hosting: shared, virtual private server (VPS), and dedicated.
Shared web hosting is the most common and basic type of web hosting. Your website shares a server with other websites, and you are all sharing the same resources such as CPU, memory, and storage. Shared hosting is great for small websites or if you're just starting out because it's the most economical option.
Virtual private server (VPS) web hosting gives you more control and flexibility over your web hosting experience. Your website is still sharing a server with other websites, but you have your own allocated resources such as CPU, memory, and storage. This means that your website won't be affected by other websites on the same server. VPS web hosting is great for medium-sized websites or if you want more control over your web hosting experience.
Further, dedicated web hosting gives you an entire server to yourself. This means that your website isn't sharing any resources with other websites. Dedicated web hosting is great for large websites or if you need complete control over your web hosting experience.
What is web hosting vs web server?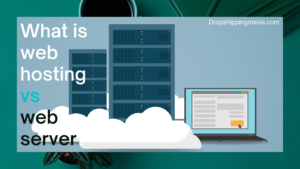 Web hosting is a service that allows organizations and individuals to post a website or web page onto the Internet. A web host, or web hosting service provider, is a business that provides the technologies and services needed for the website or webpage to be viewed in the Internet. Websites are hosted, or stored, on special computers called servers. When Internet users want to view your website, all they need to do is type your website address or domain into their browser. Their computer will then connect to your server and your webpages will be delivered to them through the browser.
Most people don't know anything about web servers and web hosting. All they know is that when they type in a web address like www.example.com, they see a website. But how does it all work?
Let's start with web servers. A web server is a computer that stores websites. When you type in a web address like www.example.com, you're actually telling your computer to connect to Example's web server. Once your computer has connected to the server, it can then access the files that make up Example's website and display them in your browser window. It's kind of like if you wanted to visit a friend's house; first you have to find out where they live (get their address), then you have to go there (connect to their home).
Now let's talk about web hosting services. While a web server just stores files for websites, hosting services
How do I make money from websites?
There are a few ways to make money from websites. The most common is through advertising. You can sign up for an advertising program like Google Adsense, which will place ads on your website and pay you based on the traffic you generate.
Another way to make money from websites is by selling products or services. If you have a website that sells products or services, you can make money by getting paid for each sale that you make.
Finally, you can also make money from websites by becoming an affiliate for other companies. When you become an affiliate, you promote other companies' products or services on your website and earn a commission for each sale that you generate.
Which program is used for web hosting?
There are a variety of programs that can use for web , but the most popular is Apache. Other common choices include Microsoft IIS, Nginx, and Lighttpd.
What are the 12 basic types of website?
The 12 basic types of websites are:
1. Personal website
2. Business website
3. eCommerce website
4. Portfolio website
5. Blog
6. Forum
7. Social networking site
8. News site
9. Video sharing site
10. Photo sharing site
11. Wiki
12. Job board
Is domain and web hosting same?
Domain and web hosting are not the same. A domain is your website's name. It's what people type in to find your site. Web hosting is where you store your website's files. Your domain tells people where to find your website, and your web  stores your website's files and makes sure they're available online 24/7.
What are the 5 easy steps to host a website?
1. Choose your web  provider. There are a variety of providers to choose from, so be sure to do your research before making a decision.
2. Select the type of hosting plan that best suits your needs. Shared hosting is a popular option for small businesses, while more complex plans may better suited for larger businesses or e-commerce sites.
3. Register your domain name. Once you've selected your web hosting provider and plan, you'll need to register a domain name for your website. This can usually done through your web hosting provider or a domain registrar such as GoDaddy or Namecheap.
4. Set up your website. Most web   providers will offer easy-to-use tools for creating a website, such as WordPress or Weebly. If you're not comfortable using these tools, you can hire a professional web designer to create a site for you.
5. Promote your website. Once your website is up and running, it's important to promote it to attract visitors and customers. You can promote your site through social media, search engine optimization (SEO), and by advertising online or offline
What is hosting vs cloud?
Moreover, hosting and cloud services are both types of internet-based computing that provide users with access to remote servers. Hosting services are typically used for websites, while cloud services can use for a variety of purposes, including storage, networking, and software as a service (SaaS).
The main difference between hosting and cloud services is that hosting services are usually designed to host a specific type of application or website, while cloud services are more general-purpose and can be used for a variety of workloads. Additionally, cloud services are typically delivered over the internet, while hosting services may be delivered via the public internet or a private network.
If you want to purchase your domain name then visit this link