[vc_ow]
What is product searching?
Just about everyone has gone through the process of product searching. You know what it is: you have something you need or want, so you search for it online or in store. But have you ever stopped to think about what actually goes into product searching? It's more than just typing in a few keywords and finding what you're looking for. In fact, there's a whole science behind it. From user experience to search engine optimization, there are a lot of factors that go into making sure your product is easy to find. In this blog post, we will explore the world of product searching. We will discuss how it works and why it's important for businesses to understand. We will also provide some tips on how you can optimize your own product searches.
Why is product search important?
Product search is important for a number of reasons. First, it allows customers to quickly and easily find the products they are looking for on your website. This can save them a lot of time and frustration, and increase the likelihood that they will make a purchase.
Second, product search can help you to better understand what your customers are looking for. By analyzing the search terms they use, you can gain insights into the types of products they are interested in and what their needs are. This information can be use to improve your product selection and marketing strategies.
Third, itsearch can be a valuable tool for driving traffic to your website. If customers see that you have the products they are searching for, they are more likely to visit your site and make a purchase.
Finally, product search can help build customer loyalty and repeat business. If customers have a positive experience searching for and finding products on your site, they are more likely to come back in the future and recommend your site to others.
What is product search engine?
Product search engines are online tools that allow shoppers to find products they are interested in purchasing. These searches can be conducted on a variety of websites, including retail sites, manufacturer sites, and third-party product search sites.
When shopping online, product search engines can be a helpful way to narrow down your choices and find the best deals on the items you are interest in. You can usually search for products by keyword, category, or price range. Many product search engines also allow you to compare prices from different retailers before making a purchase.
If you are not sure what kind of product you are looking for, or if you want to get an idea of what is available, browsing through a product search engine can be a great way to start your shopping journey.
What are the three main types of searching?
Isearching is the process of finding products that meet certain criteria, such as price, quality, or features. There are three main types of product searching: online search, offline search, and comparison shopping.
1. Online Search: This type of product searching is through the use of online search engines such as Google or Bing. Customers can use online search engines to find products that meet their specific criteria without having to leave their homes or office.
2. Offline Search: This type of product searching requires customers to physically visit stores in order to find the products they are looking for. However, this type of product searching can be time-consuming and may not always result in finding the desired product.
3. Comparison Shopping: This type of product searching involves comparing prices and features of similar products from different brands in order to find the best deal possible. Comparison shopping can be done online or offline but many customers prefer to do it online in order to save time and effort.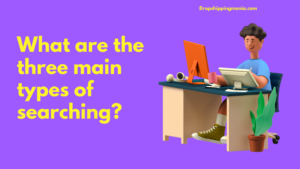 What are 4 examples of search engines?
There are many different types of search engines, but some of the most popular include Google, Yahoo, and Bing. Other examples of search engines include Dogpile and DuckDuckGo.
Most search engines work by indexing websites and other online content. When you enter a query into a search engine it looks through all of the indexed content to find anything that is relevant to your query.
Some search engines are better at finding certain types of content than others. For example, Google is particularly good at finding websites, while DuckDuckGo is better at finding images and videos.
No matter what type of content you're looking for, there's a search engine out there that can help you find it.
How do I make my product visible?
There are a few things you can do to make your product more visible in search results. First, make sure you have optimized your product title and description for the keywords you want to rank for. Second, use high-quality images that are clear and relevant to your product. Finally, promote your product on social media and other online platforms to reach a wider audience.
What is the best searching technique Why?
There are a few different techniques that can be use when searching for a product. The best technique to use depends on the product you are looking for. And the amount of time you have to search.
If you know exactly what you are looking for and just need to find it quickly. Then using a search engine like Google is probably your best bet. Just enter in the name or model number of the pro-duct and see what comes up.
Another option is to use a comparison shopping site like Amazon or eBay. These sites allow you to enter in what you are looking for and then they show you results from multiple retailers. This can be helpful if you want to compare prices or find the best deal.
Finally, if you have more time and want to explore all of your options. Then using a product directory like CNET can be a great way to do your research. These directories provide an overview of different products in a particular category, along with user reviews and ratings. This can help you get a better sense of what is available and narrow down your choices.
For more informative article visit this link: